Directions
Da Rifi Hostel is located at:
Jl. Duku II /190, Pondok Candra Indah, Surabaya 60, Surabaya, Indonesia
Tel: +62 8133 474 3870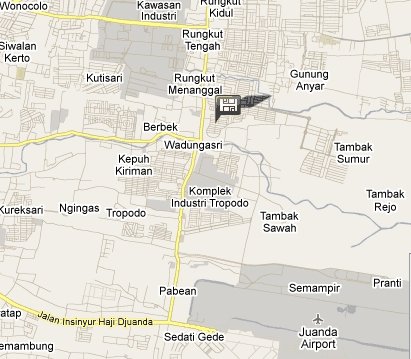 Directions
We are located in the area of Juanda Surabaya airport. We provide pick up service from where you will be arrived at. but you also can take public transportation. We are not in the city center but we are nearby airport and bus t erminal Purabaya/Bungurasih. It is quiet easy to go to city center as there are so many minibuses never stop from morning till night time at 11 pm. Say, if you want to go to a mall of Royal Plaza, just take minibus H4 and you will be arrived directly at front of the mall. If you want to go to Tunjungan plaza, take Minibus V after H4 at RSI shelter, or city bus PATAS P1. We provide motorbike or car to go around the city if you wish with reasonable price.


Airport Directions

Take airport shuttle bus for Rp.15,000. it is going to bus terminal Purabaya/Bungurasih. But ask to stop at the junction to change with minibus code H4, charges Rp.3,000. Tell the driver to stop in Pondok Chandra Indah 'Menara'. It means Menara Badminton Hall/Dunkin Donut/Gasoline Pump( "pom bensin"). Then you walk in 2 minutes, Da Rifi is there.



Bus Station Directions

From bus station Purabaya at Bungurasih, take minibus with code HQ. This minibus is located at the back of the bus terminal where all city buses go out through. It costs Rp.3,000. Sometimes you have to wait till it is almost full of passengers. It is light green and seems old and ugly than other minibuses. They stop at 5 pm. Stop at Menara/Dunkin Donut/pom bensin.



Ferry Terminal Directions

From Perak harbour, take Damri Bus with code P1, going to Bungurasih, and take HQ



Train Station Directions

From Surabaya Gubeng train station, take minibus code F at the backside of the station, then change with minibus code H4. It costs Rp.3,000 each, Stop at Menara/Dunkin Donuts/Gasoline Pump("Pom bensin").
From Wonokromo train station, take minibus H4.
From Pasarturi train station, take any minibus going to Joyoboyo bus terminal. It is city bus terminal. Ffrom here, take H4. Each costs IDR.3,000.